Coaches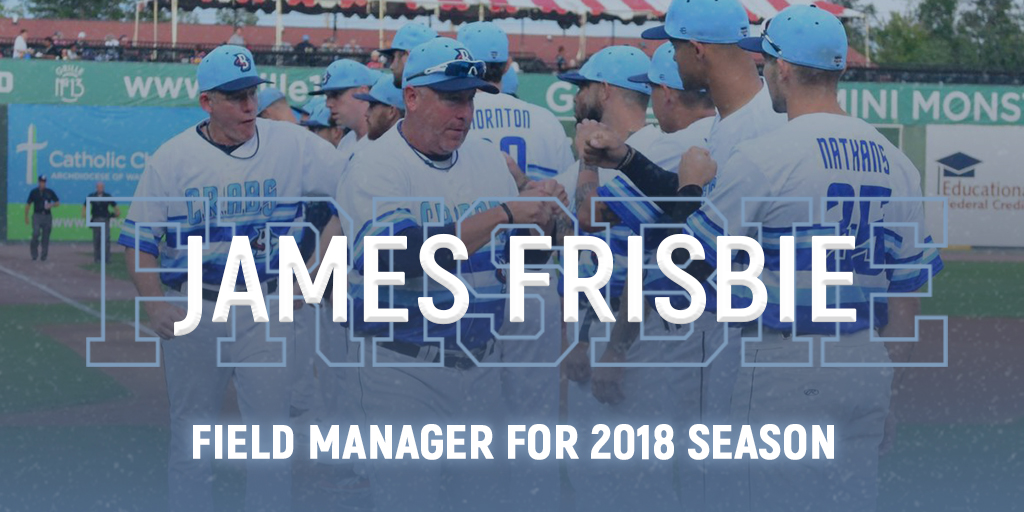 James Frisbie will return as manager of the Blue Crabs for the 2018 season.
Frisbie began the 2017 season as the Blue Crabs Pitching Coach. He took over the helm in early August and led the team to the First Half Freedom Division Championship.
Besides the last two months of the 2017 ALPB season, Frisbie's previous skipper duties were managing the Texas Air Hogs of the American Association in 2016. In 2013, Frisbie was named the team manager for the Rockford Aviators and was the manager of the 2015 Frontier League All-Star game.
As a player, the left-handed pitcher was signed by the Alexandria Aces in the Texas-California League in 1998. Frisbie was on staff with the Rio Grande Valley White Wings, the Jackson Senators of Central Baseball League and with the Chillicothe Paints in the Frontier League.
The Southern Maryland Blue Crabs announced the hiring of 1993 Northern League MVP and Batting Title Winner Kash Beauchamp as the 2018 Hitting Coach.
Beauchamp's coaching experience includes a stint as a hitting coach in the Montreal Expos farm system, leading the New Jersey Jackals to a Northeast League Championship and managing the Lincoln Saltdogs, Adirondack Lumberjacks and Pensacola Pelicans.
Beauchamp was selected by the Toronto Blue Jays with the first overall pick in the 1982 amateur draft. He played in the minors for twelve seasons, reaching as high as AAA. His signing with the Cincinnati Reds after his MVP season in the Northern League made him the first position player signed out of independent baseball.
Accolades during his playing days include the 1984 Carolina League All-Star Game MVP and being voted the Best Defensive Outfielder and Outfielder with the best arm in the Carolina League by Baseball America.
In his 35 years of professional baseball experience, Beauchamp has also held front office positions. He served as the scouting director of the Golden Baseball League and as the Vice President and Director of Baseball Operations for the South Coast League.